New Products at Clearance Prices
One of Baby Lock's combination sewing and embroidery machines was recently replaced with a new model that connects to your computer wirelessly to transfer embroidery designs. If you don't mind using a USB stick to transfer, you can save big on the last of the Accord stock.
Compare the Accord (shown) and the new Bloom at
babylock.com
. Both are sewing and embroidery machines with advanced features and 5" x 7" hoop size.
But don't take too long. They're almost gone.



Deluxe reconditioned machines at less than half price.




Looking for value? Why buy online when you can get these amazing pre-owned bargains with local warranties, service, and classes. Fully serviced before going to a new home. Most are less than half the original price and have a full year warranty.
CALL OR EMAIL FOR MACHINE LOCATION AND AVAILABILITY
These can sell fast. With a little notice we can bring it to the other store, except longarms.
(All subject to prior sale)


Baby Lock Tiara 2 with Koala deluxe quilting table. Sit down to free motion quilting with 16 inches of space behind the needle. The height of the arm is 8.25 inches so there's lots of room for a rolled up quilt. Work at speeds up to 1800 spm. Large capacity bobbin. Uses all the popular feet for echo quilting, ruler work, couching, even needle felting. $3499.
Queen Quilter 18 longarm with 10 foot Grace frame,

$2499


Refurbished longarm quilting machine with 18" throat space, stitch regulation.
Serviced, tested, and ready to go for quilts up to 108" wide. Large M class bobbin.
Fantastic price for a real longarm with lessons.



Baby Lock Embellisher felting machine, $449. Uses no thread. Felting needles enmesh decorative fibers with the background. Use with wool roving, silk confetti and more. Lots of information on Youtube and Baby Lock online classes. Search "Evy Hawkins".

Baby Lock Ellegante 2, combination sewing and embroidery with 7" x 10" hoop size, USB port, onboard editing, large sewing stitches and lots of them, $1199

.


Baby Lock Ballad

sewing machine with 11.25" sewing space, 771 stitches, digital dual feed, hands free knee lift, push button needle threader, professionally serviced $2749. Current model, next to the top in the series without hoop embroidery.







Baby Lock Altair

large sewing and embroidery with 9.5" x 14" hoop size, one down from the top model.

Use the IQ Intuition Positioning App with your smart phone to position designs in the hoop. IQ Designer lets you create designs at the machine. Hundreds of stitches, current model with extra hoops and accessories. Half the current price.

$4499




Elna 8300 embroidery only machine with update to Elna 820 features. Embroiders 5.5" x 8" with onscreen editing and USB port for transferring embroidery designs from your computer. Demo model.

$599

.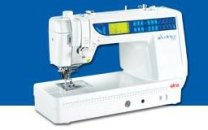 Elna 7300

, also known as the Quilting Queen with large flatbed space, needle up/down, cutter, upper feed, knee lift, utility and decorative stitches, accessory box. $999
Elna 9600
freearm workhorse with attached embroidery unit capable of 8" x 8" embroidery and larger with multi-position hoop, part of the bonus kit included. Advanced quilting hoop, 24 quilting designs, quilting calculator, 347 built-in stitches, USB ports. Space saving design with embroidery unit at the back to save table space. This is the Elna version of the Janome 11000SE and includes special Swiss Elna stitches. $1299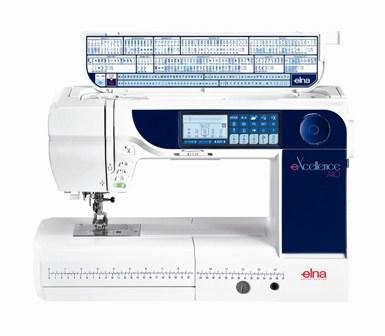 freearm with top feed, 7mm stitch width, and 11" to the right of the needle,
245 stitches with 26 Elna exclusives, knee lift, accessory storage on the machine front in a hidden pocket, sewing speed up to 1000 spm, $999


Bernina 810

minimatic, compact size with red and black plaid cover, Swiss made, $399

Bernina 830 with red case, top of the line from the 1970's, $499

Bernina 910 portable $399

Bernina Activa 135S compact size electronic $495

Husqvarna Viking Sapphire 835 sewing/quilting machine with 10-inch harp $549

Husqvarna Viking Sapphire 875 Quilt

with exclusive sensor system $989
Husqvarna Viking Emerald 203, $399

Huskylock 910 serger, $299

Brother SQ9185 $139
Singer 7469Q Confidence Quilter, $129

Pfaff 2042 expression portable with IDT, $449

Pfaff 1171 tiptronic portable, classic push-button mechanical with needle up/down from Germany. $499

Pfaff 2124 IDT sewing embroidery with smart card reader/writer for transferring designs. $699

Pfaff 2054/2056 sewing machine with IDT and 9mm stitch width $699
Pfaff Creative Performance
sewing and large embroidery up to 8" x 14", with USB ports, on screen editing, complimentary software,

$1999

.

This is one model before the current Creative 4.5 and shares the purple trim panel and most of the features.



Pfaff Creative 3.0 embroidery and sewing machine. 10" harp, 8" x 10" hoop. $1999.

Pfaff Creative Sensation Pro II, former top model with burgundy trim, new stitches.

$2799

Pfaff 7570

classic sewing and embroidery machine

$799


Pfaff Creative Icon with embroidery unit and latest version update, fully serviced, with warranty. $5999

Pfaff Performance 5.2, with 10" throat, monograms, stitch creator, $1499.

This is one model before the current expression 720 and shares most of its features.



Pfaff Performance 5.0 with needle clamp

upgrade

, 10" to the right of the needle and lots of stitches. $999.

White 505 freearm with utility stitches, $139

Dressmaker SWA2000, $99.

Vintage Japanese tank.
Watch this space for more clearance values.